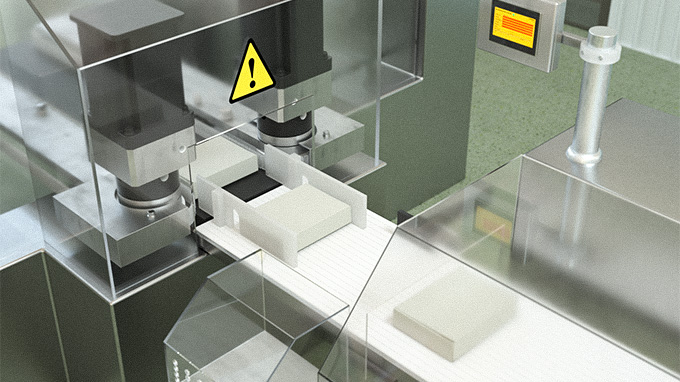 Decentralized RFID Package Verification
Retrofittable RFID tracking system eliminates errors from the packaging process
The pharmaceutical industry is subject to strict documentation requirements. Every single production step must be documented including the packaging of the drugs.
Packaging machines used in the pharmaceutical industry must check the contents of each box and document the result. When a single box contains a variety of containers, this process becomes much more complex. The system needs to be flexible to accommodate the frequently changing box configurations and integrate documentation into the production process.
Your Benefits
Requires minimal intervention in existing systems
FAT carried out by the manufacturer, ensuring quick installation and commissioning
Complete system from a single source
Multiprotocol Ethernet for global use
Complete Decentralized System from a Single Source
When tracking and documentation functions need to be retrofitted, decentralized solutions are extremely beneficial. Existing systems and controllers only need minimal adjustments.
Turck offers a complete, turnkey solution comprised of a RFID system, HMI operating devices, and I/O modules that feature connection technology. The box is equipped with an adhesive tag. At each station in the system where a product is placed in the box, a read/write head writes this information on the box unit tag. At the end of the process, the tag information is compared with the setpoint of the system's main controller. If the values differ, the ID system activates an actuator and removes the respective unit from the system for a manual inspection.
Turnkey System including FAT
A BL20 CODESYS controller with connected HMI controls the system, and the magnetic fields of the read/write heads have zero impact on the pharmaceuticals. The entire system can be delivered as a turnkey solution with Factory Acceptance Test (FAT) carried out at Turck. Furthermore, the magnetic fields of the read/write heads have zero impact on the pharmaceuticals.
Flexibly Mapping 30 Packaging Configurations
The configuration of the boxes changes irregularly. The ID system contains 30 configurations that the user can easily select themselves via the HMI when there are changes in production.
Multiprotocol Ethernet for Worldwide Use
The system communicates via Turck's multiprotocol Ethernet standard and operates with PROFINET, EtherNet/IP or Modbus TCP networks without user intervention. The controller of the ID system is programmed in CODESYS.