PROFINET

What is PROFINET?
The PROFINET protocol is based on Industrial Ethernet and is a communication standard for factory automation. It describes the entire data exchange between so-called slaves, such as Turck's multiprotocol I/O modules, and a controller (the PROFINET master). In this function, PROFINET is considered the successor to the PROFIBUS fieldbus protocol.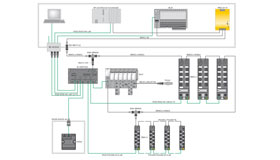 PROFINET System Overview (click to enlarge)
PROFINET was optimized in the area of cyclical data exchange and offers several new functions and extensions compared to conventional fieldbuses, particularly in relation to parameterization and diagnostics.
PROFINET offers users flexibility in the design of their network structures and enables them to transfer both process data in real-time (RT) as well as additional IT data via a single cable.
Additional Information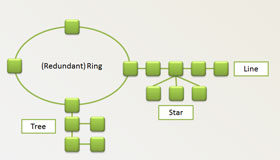 Network Topology Layouts (click to enlarge)
Flexible Network Topology
PROFINET I/O devices from Turck have an integrated switch, and can be installed in linear structures like classic fieldbus systems.
In addition, PROFINET also supports the standard Ethernet topologies such as star, tree, and ring. As such, the network installation can be easily adapted to machine and plant structures.
Fast Start-up
Fast Start-up reduces the time between switching on the power supply of an I/O device and the establishment of a connection with the I/O controller. Fast Start-up is defined by PROFINET as less than 500 ms. Turck's I/O modules of the TBEN-L Series also realize start-up times as quick as 150 ms.
Fast coupling of I/O devices is especially important to reduce waiting times in tool change applications, helping to increase clock rates and overall productivity.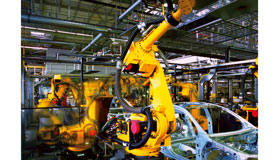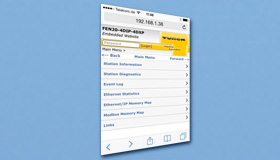 Extended Diagnostics
In PROFINET networks, standard IT functions and protocols such as HTTP and SNMP (simple network management protocol) are available for network diagnosis. The SNMP protocol is, among other things, a basis for the PROFINET topology scan. With it, entire network structures can be read online and displayed graphically.
All multiprotocol Ethernet gateways and I/O modules from Turck are equipped with a web server. The web server provides statistics and settings, as well as the Ethernet ports and a fault memory with history and diagnoses in plain text.
Proven Engineering
In keeping with the tradition of PROFIBUS, the configuration of the system was largely retained for PROFINET, providing a very sophisticated and user-friendly engineering experience when compared to other Ethernet protocols. The new GSDML configuration files are based on the XML standard and enable advanced structures and new functions. In addition, the web server configuration tool is becoming increasingly important. For example, Ethernet ports can easily be configured or the PROFINET name can be assigned.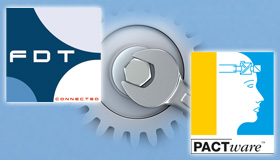 PROFINET Products
The following fieldbus devices showcase the power of PROFINET technology. Click on a product to learn more.